Modernizing Calyptia's Website: Unleashing the Power of Next-Level Web Technologies
Scope
Web Design
Web Development
Technologies
Next.js
DatoCMS
Tailwind CSS
Vercel
Basin
Monogram embarked on an exciting venture to revamp Calyptia's online presence. Their existing website struggled to keep up with their aspirations and it faced several typical challenges that hindered its growth and effectiveness.
The transformation of Calyptia's website with NextJS, Tailwind CSS, Basin forms, DatoCMS, and Vercel showcases the immense advantages of embracing modern web technologies. Monogram's expertise in composable websites empowered Calyptia to achieve exceptional performance, streamlined communication, effortless content management, and scalable deployment. This success story serves as a testament to the transformative power of leveraging cutting-edge technologies to elevate a brand's online presence. Partner with Monogram to unlock the full potential of your digital journey.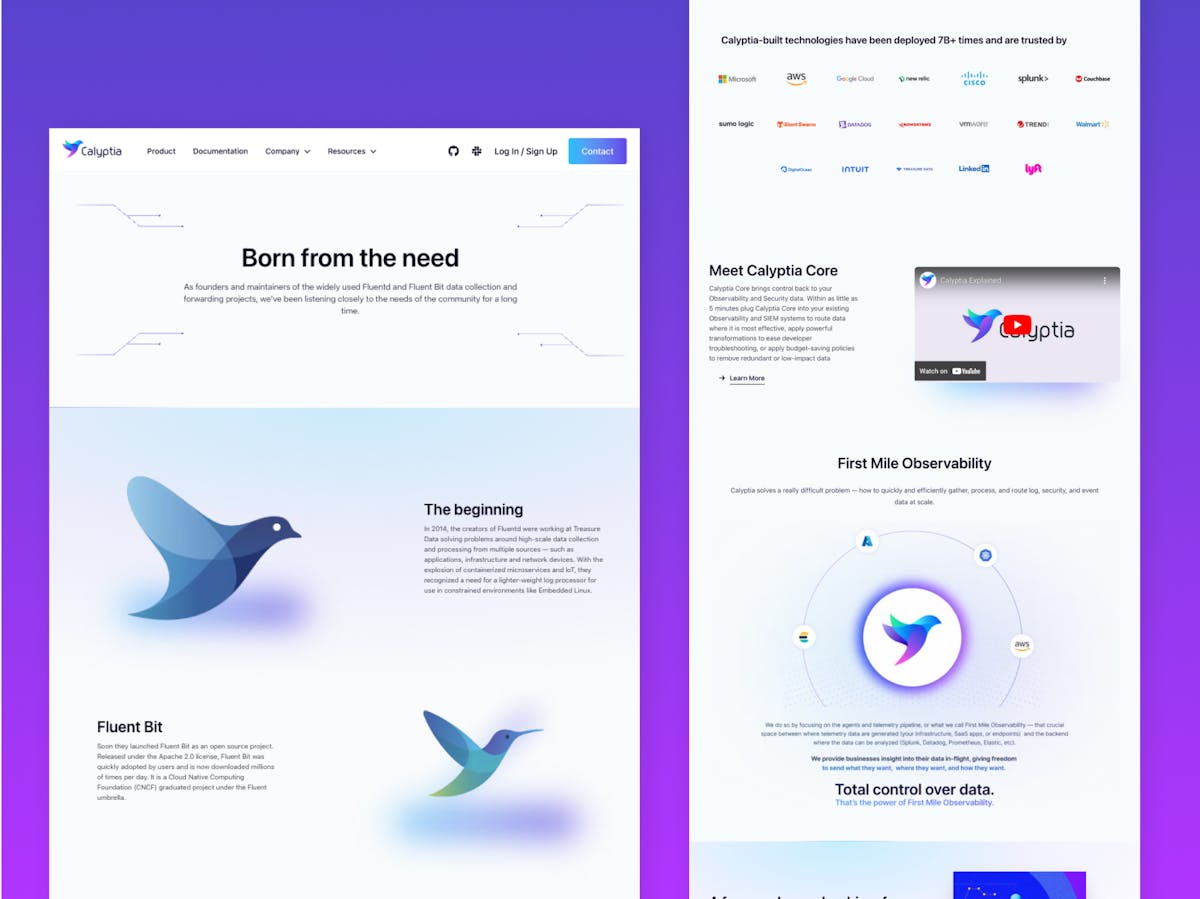 Leaving the Past Behind
Calyptia found itself trapped in the constraints of an outdated content management system. The limitations of this legacy platform hampered their growth and left them yearning for a more dynamic digital experience.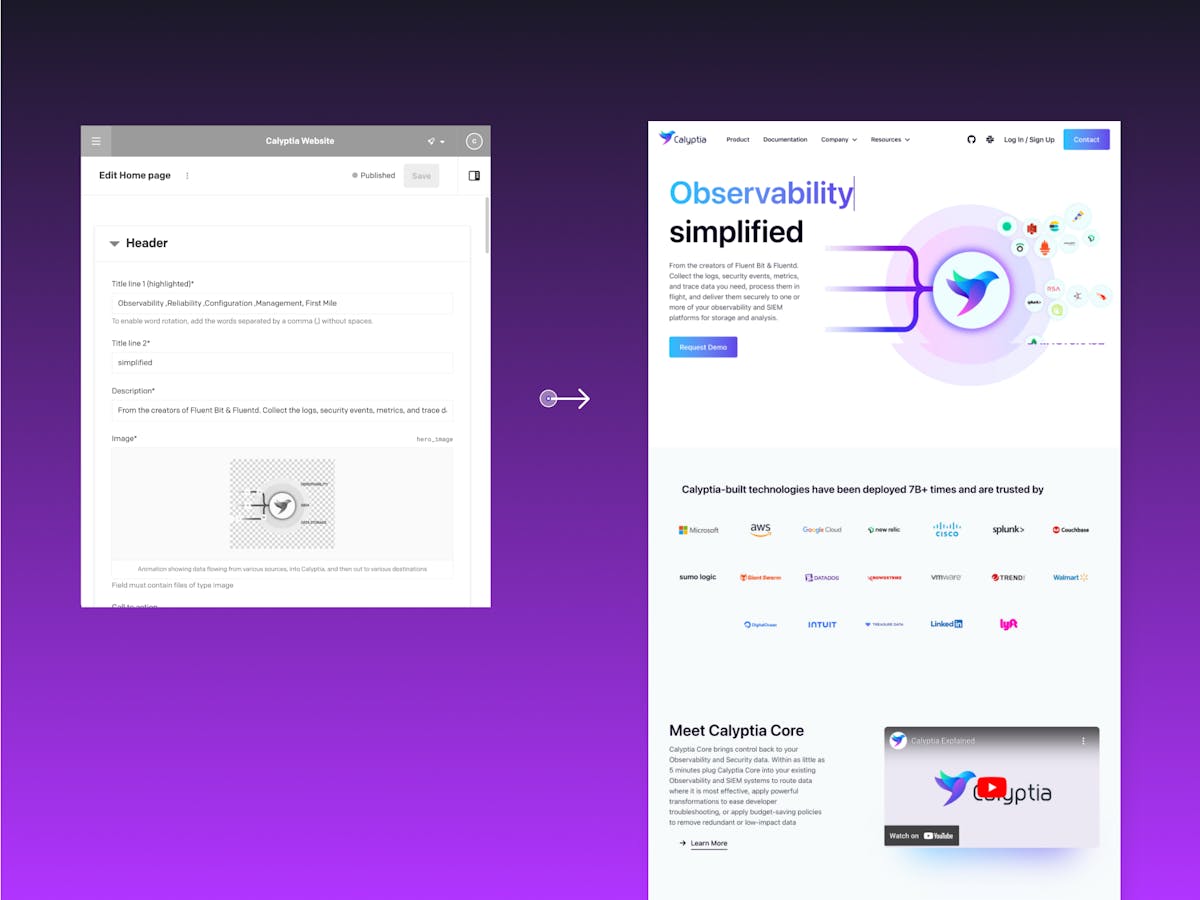 Empowering Effortless Content Management
Traditional CMSes can be cumbersome, users may face difficulties in organizing and updating content, resulting in inefficient workflows and potential inconsistencies.
DatoCMS provided Calyptia's team with a user-friendly interface and flexible content modeling capabilities. The streamlined content management process empowered Calyptia to deliver timely and consistent information to their audience, ensuring a seamless browsing experience.
Unleashing Creativity and Consistency
Tailwind CSS empowered our designers to create a visually stunning and highly customizable website, tailored to Calyptia's unique brand identity. Designers and developers achieved the perfect harmony of aesthetics and functionality, seamlessly adapting the website's appearance across various devices.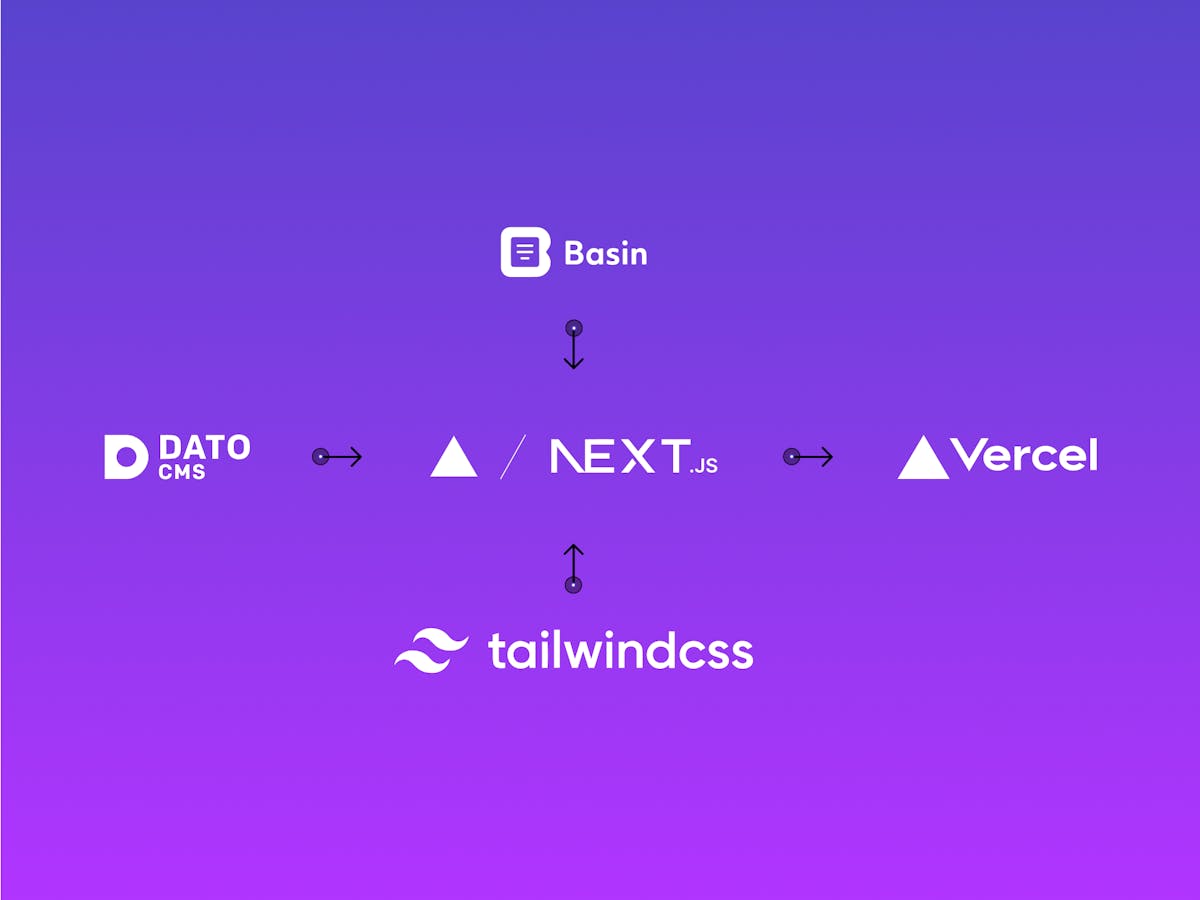 Agile Deployment for Scalability and Reliability
Monogram deployed Calyptia's website to Vercel, offering agile deployment, seamless scalability, and hassle-free maintenance. Vercel's infrastructure provides a secure and reliable online presence, allowing Calyptia to focus on delivering an exceptional user experience.