How we redefined luxury travel with GossRV.
Scope
Market Research
UX/UI Design
Wesite Development
Web App Development
3rd Party API Integration
Technologies
DatoCMS
Next.js
Tailwind CSS
Vercel
Hubspot
GossRV delivers unforgettable experiences in luxury resorts on wheels. The company saw a 346% increase in luxury motorcoach rental requests during 2020-21 as vacation-goers sought alternative means of travel during the COVID-19 Pandemic.
As client traffic increased, it became clear to the GossRV team that their website and brand presence were no longer representative of the company's goals.
As part of their second phase, GossRV wanted to provide its travelers a more connected and personalized experience during their trips.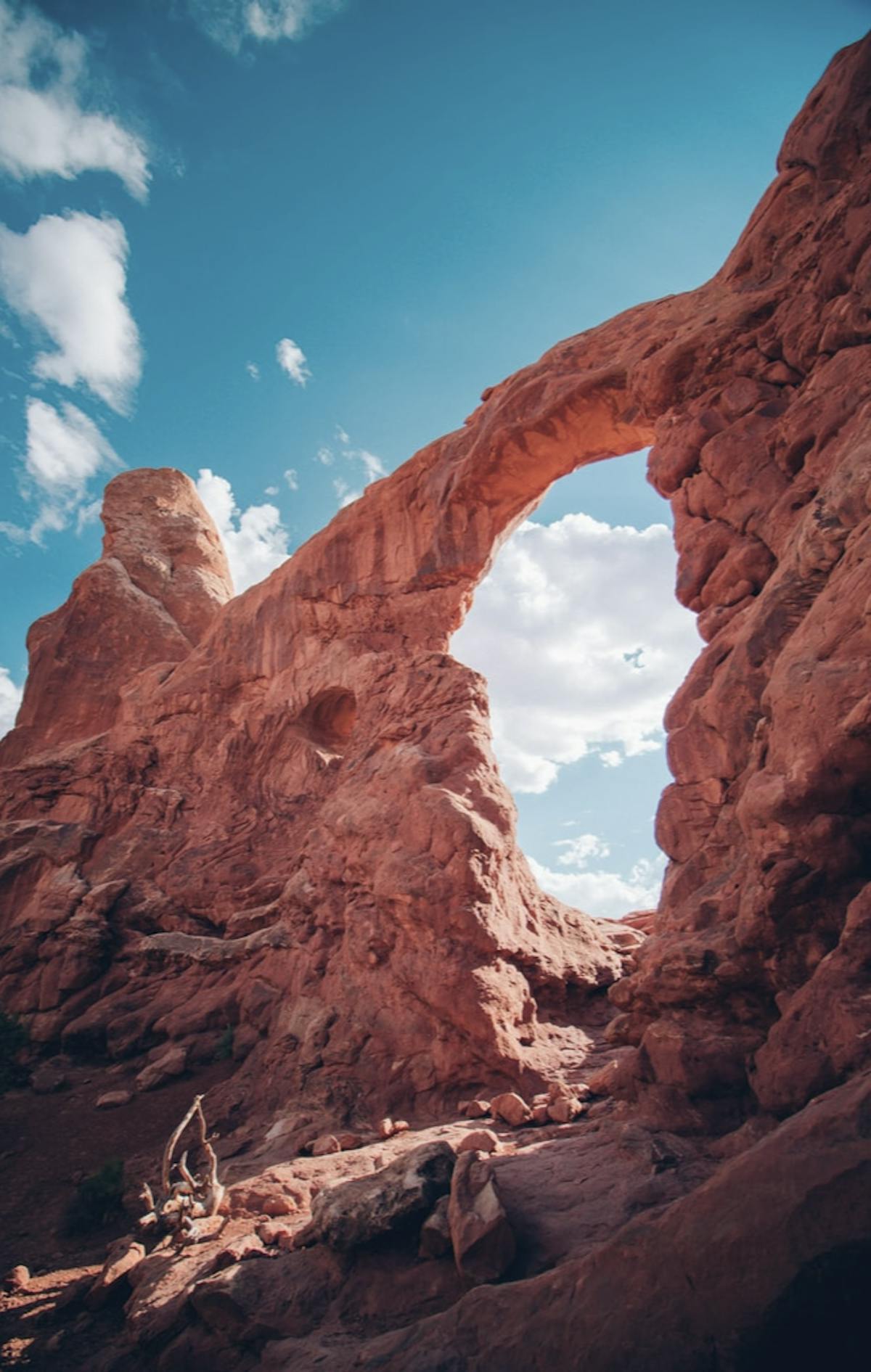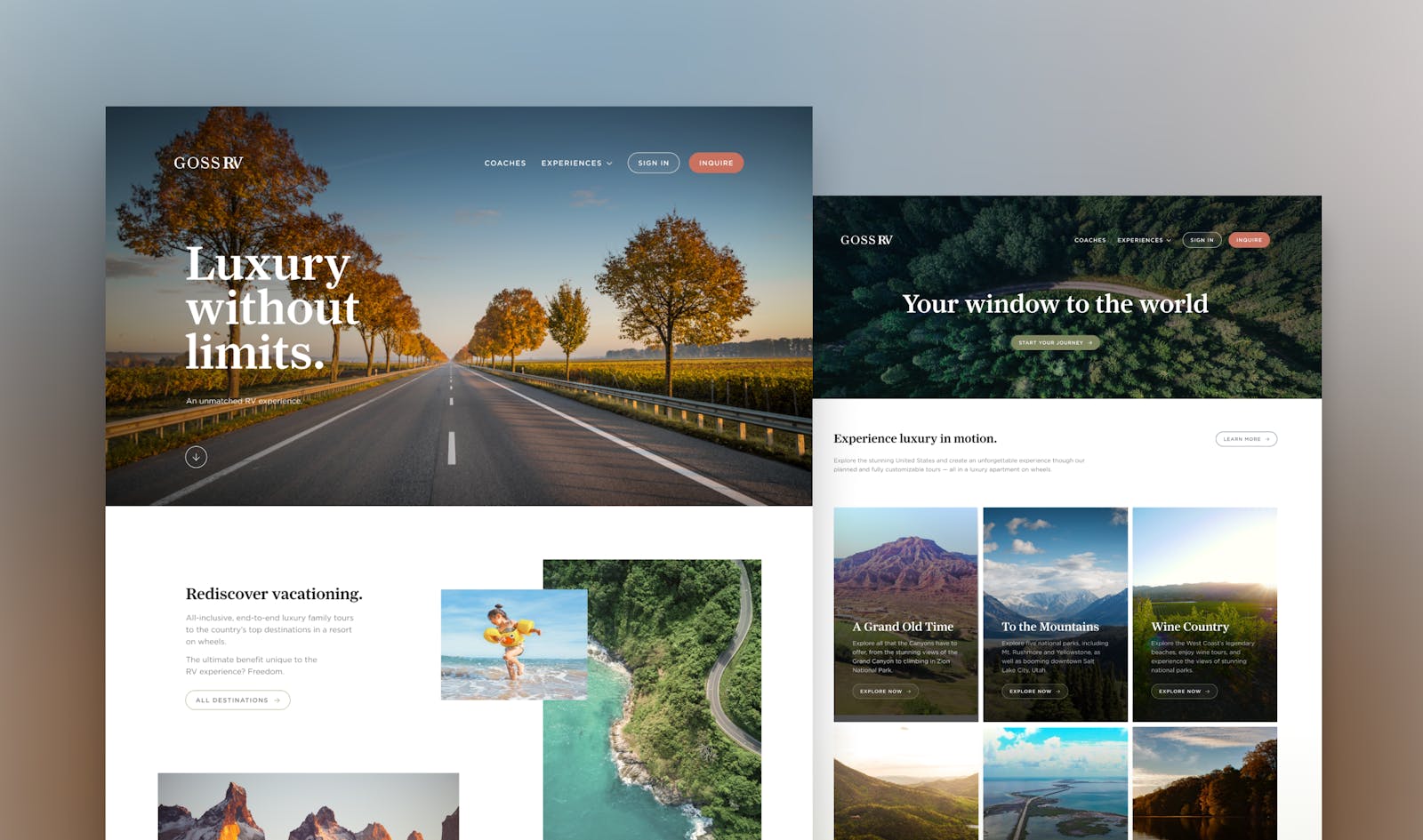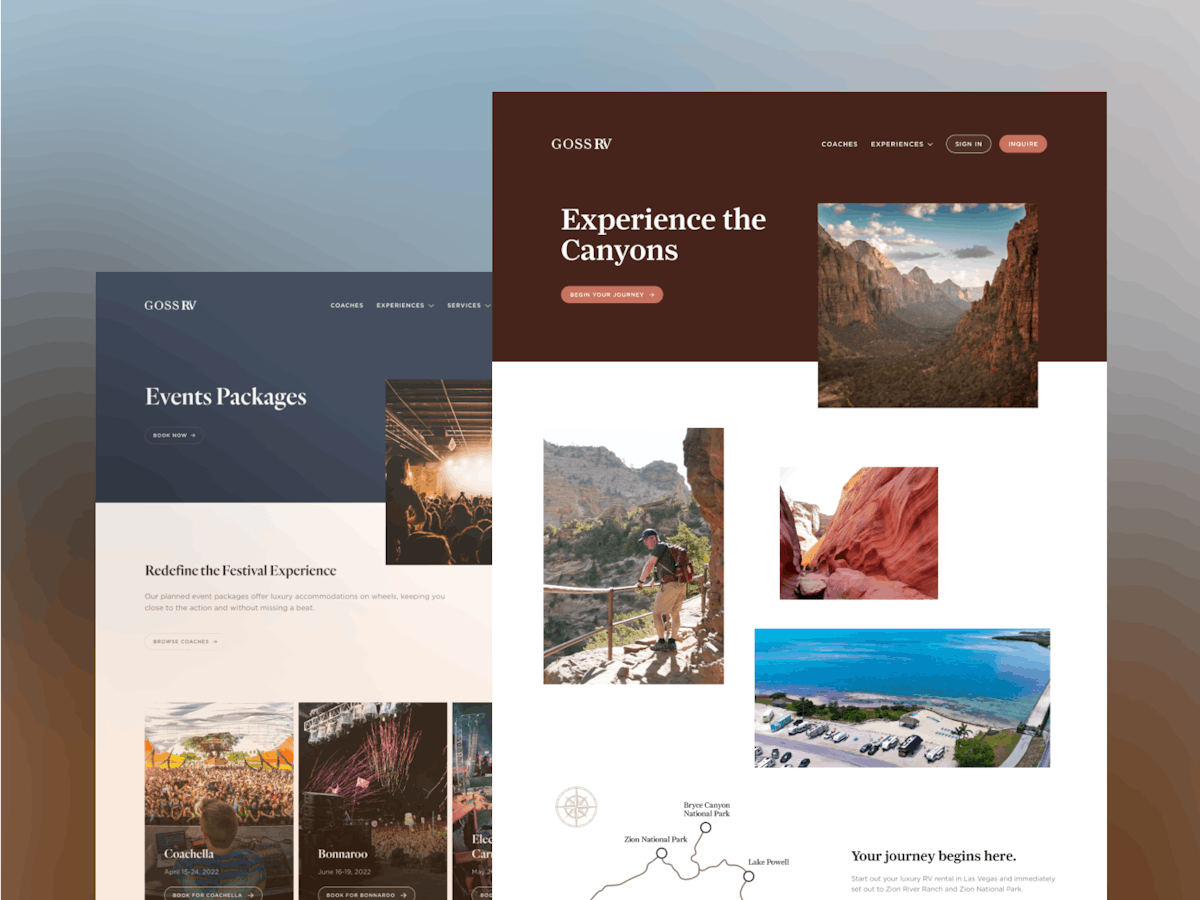 Roads Not Travelled
As their needs increased, it became clear to the GossRV team that their website needed an upgrade. Website speeds were slow, and and the site's art direction was not in line with GossRV's desired high-end aesthetic. Monogram built a custom web experience, updating brand visuals and utilizing the latest technologies.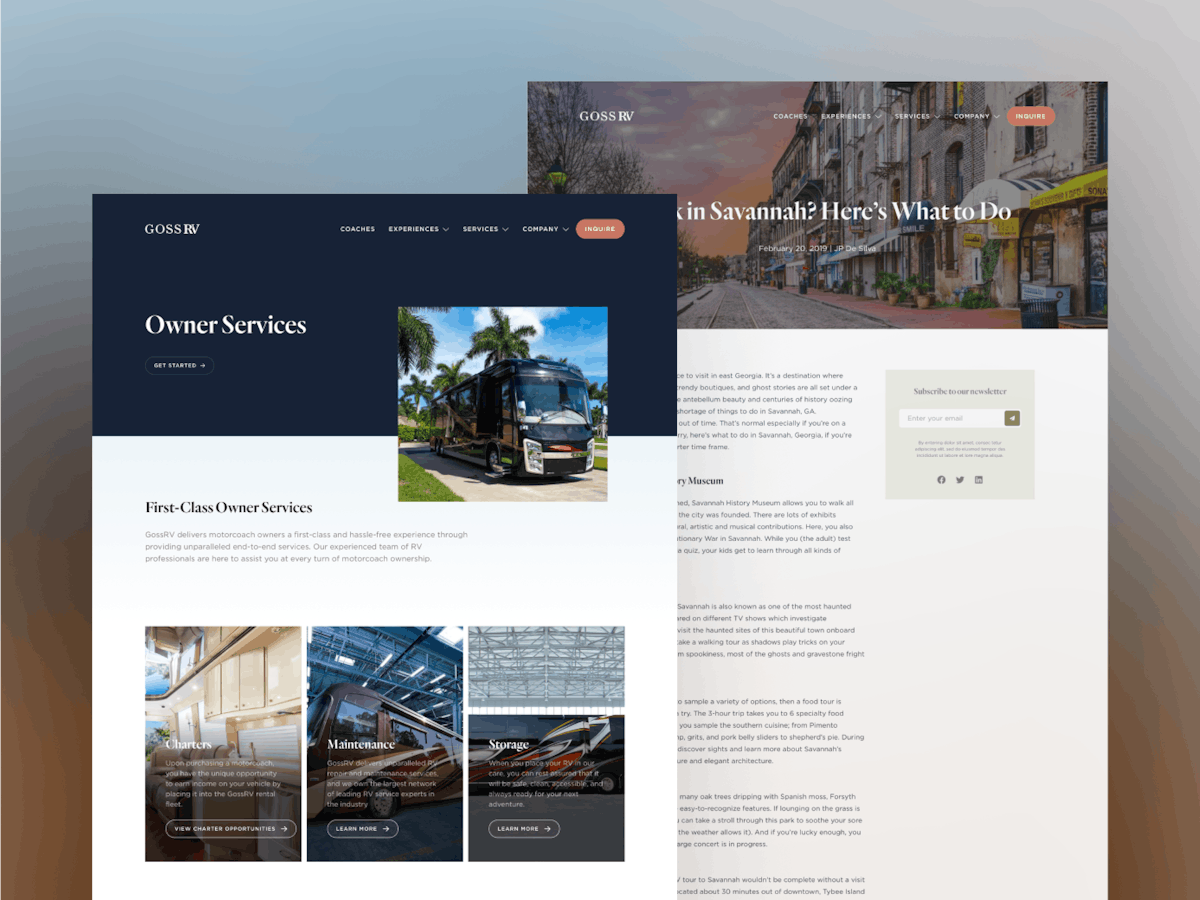 Moving forward
Monogram constructed GossRV's website with a custom design system within a CMS to allow for easy site management without the need for a web design intermediary. This will save the GossRV team time, money, and headaches 
as the company continues to grow.
The reception of the site was extremely strong amongst GossRV's clientele, and the company has experienced a notable increase in inquiries and bookings since the launch.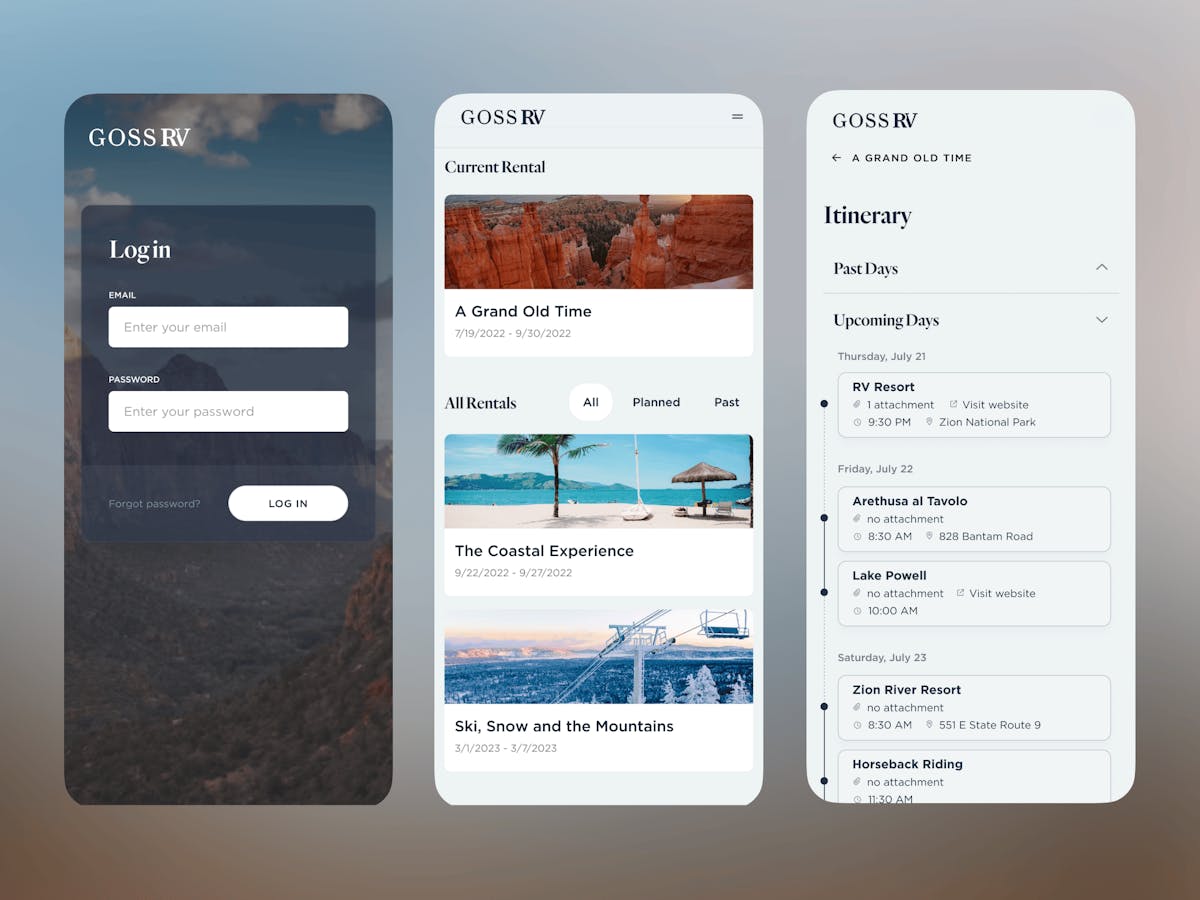 Personalized and luxury digital experience
GossRV customers are able to access the details of their trip, mainly from mobile devices, including information about all the travelers, driver, and the motorcoach. Probably the most relevant section is the trip itinerary where the GossRV team is able to add stops, dates, photos, files and even parks or events tickets to each stop, keeping a constant and good communication with their customers.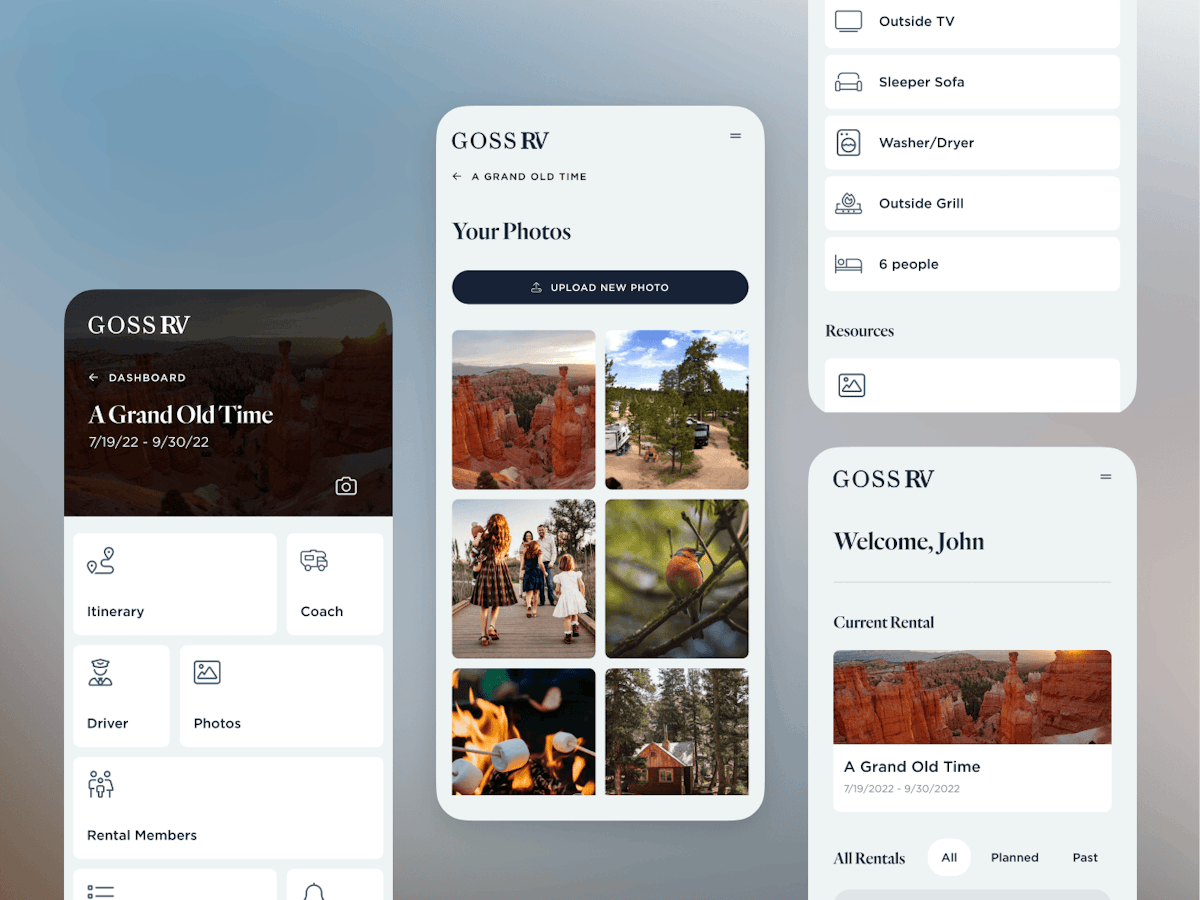 Advanced custom solutions
GossRV already had an important user base in Hubspot and the team is already familiarized with the flow offered in Hubspot to manage customers, drivers, trips and everything related to the business logic. The ideal solution was that the new app is well integrated into their current processes.
Starting with a mobile-first approach, the app's architecture contains three main components: Next.js, Hubspot and Firebase. All the main business related data comes from Hubspot, Firebase provides the authentication, database and storage modules and Next.js provides a fast UI. There are also use cases where we retrieve data from Dato CMS which is the main data source for the website.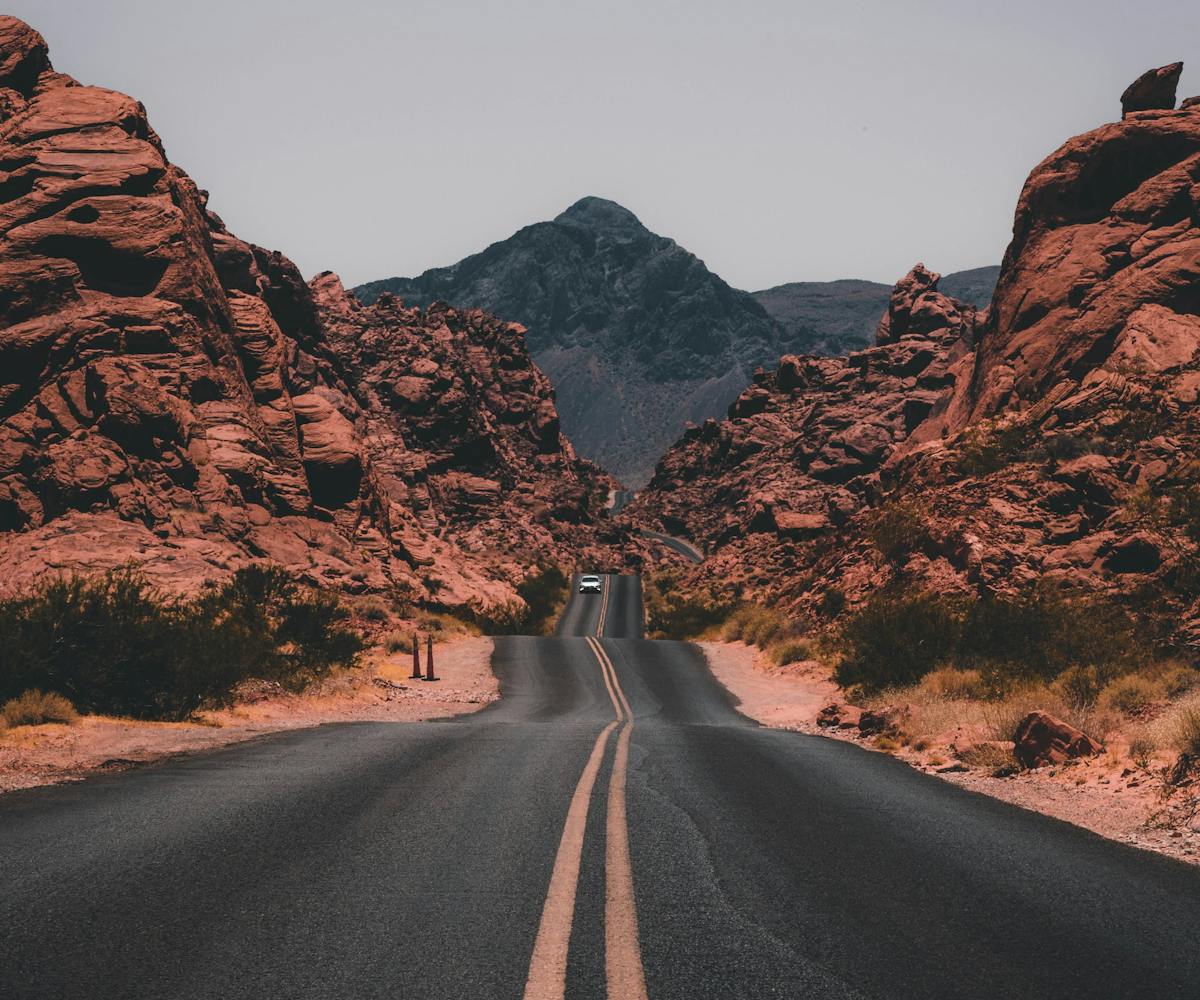 Keeping things simple
Many parts of the web app have been automated, allowing the GossRV team to provide a luxury service while making the internal experience simple and hands off. The automation happens thanks to the use of the Hubspot workflows and the capabilities of their API along with the Next.js API routes.