Monogram created a secure, mobile-friendly sign-up form that improved usability and reduced mid-stream abandonments.
Website
---
The Deceptive Importance of a Simple Form
We've all experienced bad forms. You know how it is: you're ready to take action, and then you're navigated to an absolute monstrosity — it's actually a PDF, the text frames take three tries to click into, there's no information about the form's contents, etc. Luckily, those are few and far between, nowadays.
The fact of the matter is, a form doesn't have to be bad to be bad. Even simple things, like changing the order of the content that your user experiences on your site, ensuring a form is responsive, and offering strategically placed information, can drastically improve a user's experience. And, on the flip side, help ensure that the user doesn't abandon your form mid-stream due to aggravation.
The Need
Joiya is a wellness company that creates "thoughtfully-crafted, simple, and wholesome wellness applications of CBD" that aid the treatment of anxiety and other issues. Their products are brought to market by a network of independent direct sellers called Wellness Advisors. Primarily women, these representatives market Joiya's wellness products in their respective communities.
As Joiya grew, they realized that their primary way of reaching new Wellness Advisors, an ERP platform called Flight, was in need of improvement. Due to the inefficiency and clunkiness of the sign-up form – especially on mobile – mid-stream abandonments were becoming increasingly common. In addition, due to the fact that representatives are required to provide their personal information and a means of payment during sign-up, form security was of the utmost importance.
We were losing people that had intended to sign up with us ... because it was too difficult to get through the sign-up process.

— Scott Wheeler, CIO, Joiya
The Solution
Monogram developed a mobile-friendly enrollment form – affectionately nicknamed the "Join Form" – to integrate with Joiya's Flight API. The new sign-up form improves brand reputation among new users and optimizes user flow to provide a more logical user experience.
A Joiful Brand Experience
The Join Form is the first touchpoint that a potential Wellness Advisor has with the Joiya brand, and therefore the first chance that Joiya has to make an impression. The form prioritizes visual simplicity, keeping individual screens short and highlighting key areas with Joiya's signature yellow and thoughtful illustrations. Visual clutter is nonexistent, and the user can move through the form intuitively and quickly.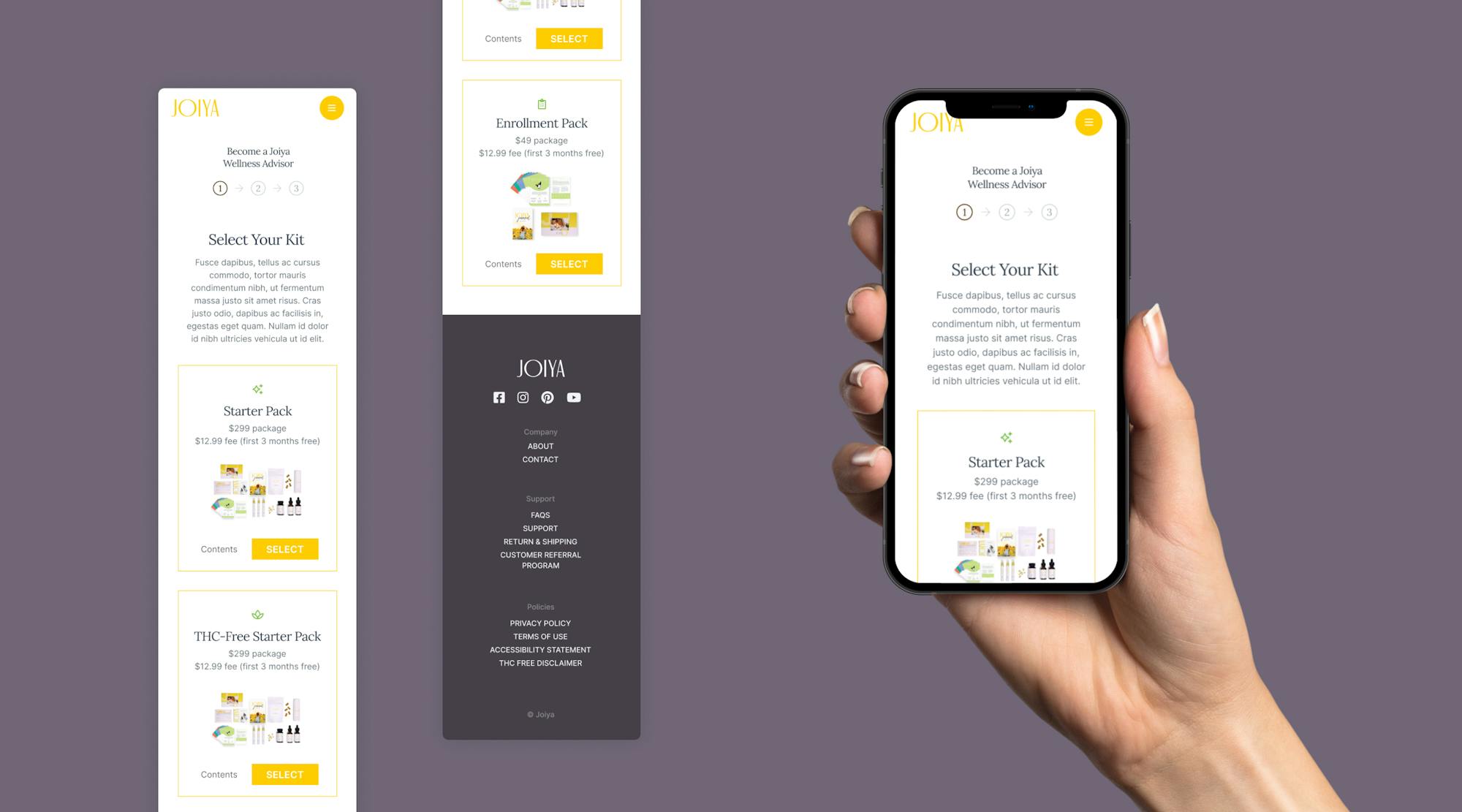 Seamless Sign-Up
Before
Choose a starting representative product kit for purchase
Create your Joiya Wellness Advisor account
Sign your Wellness Advisor agreement
Proceed to kit check-out
This process is clunky, requiring the user to change screens multiple times to achieve their final goal, and provided minimal information for the user throughout.
After
Sign your Wellness Advisor agreement
Create an account and purchase your kit
This process presents the potential Wellness Advisor with everything they may want to know up front, and handles kit purchase, account creation, and payment on one screen, thereby creating a seamless sign-up experience.
Monogram designed a really elegant, beautiful, and easy-to-use experience.

— Scott Wheeler, CIO, Joiya
Have a form that needs improvement? Get in touch.
Today's digital users expect the best, and any inconvenience in a digital space is an egregious offense that could be losing you potential customers, brand confidence among consumers, and profits. If you'd like an expert opinion on your digital form, or if you'd like one added to your current site, contact Monogram.